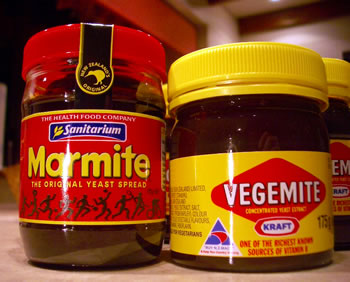 Due to lower than usual numbers, Carlo over at My Latest Supper has extended the submission date until about Thursday for the latest Is My Blog Burning theme. So, this is your chance - go on!
Write about something you really hate, or something you hate but are willing to try again just to see if your taste buds have had a turnover, or if it's just as revolting as you remembered it.
Alternatively, write about something that you enjoy eating that others would find disgusting (I'm thinking of some of the Scandinavian food bloggers here....your lovely picked fish dishes, perhaps?)
Or, you could just join in with what seems to be a theme for this round of IMBB...three entries (including my own, Alberto at Il Forno and Sam at Becks and Posh ) have featured Marmite or Vegemite....maybe now's your chance to finally give it a try. Perhaps you can weigh into the debate of which is better (or worse!) - Vegemite or Marmite? I'm sure Sam and I would love to instruct you on the finer points of optimum Marmite/Vegemite ratio to bread and butter!
Go on - be game. And send your entry off to Carlo; he's ready and waiting.